Lake Tahoe geography, tourism and major highways
Lake Tahoe is home to North and South Shores , South Lake Tahoe is the most populous city in El Dorado County, California, it's  served by major highway like highway 80, 50, 89 , 207 and 28.
Lake Tahoe is a large blue lake in the Sierra Nevada located between the state of California and Nevada , east of Tahoe is Carson City(named after the mountain man Kit Carson), is the capital of Nevada.
Lake Tahoe is the largest alpine lake in North America. Its depth is 1,645 ft (501 m), making it the second deepest in the United States after Crater Lake (1,945 ft (593 m)). Additionally, Lake Tahoe is the sixth largest lake by volume in the United States at 122,160,280 acre·ft (150,682,490 dam3), behind the five Great Lakes.
Lake Tahoe is the second deepest lake in the U.S., with a maximum depth of 1,645 feet (501 m), trailing Oregon's Crater Lake at 1,949 ft (594 m). Tahoe is the 16th deepest lake in the world, and the fifth deepest in average depth. It is about 22 mi (35 km) long and 12 mi (19 km) wide and has 72 mi (116 km) of shoreline and a surface area of 191 square miles (490 km2). Approximately two-thirds of the shoreline is in California.  The south shore is dominated by the lake's largest city, South Lake Tahoe, California, which adjoins the town of Stateline, Nevada, while Tahoe City, California, is located on the lake's northwest shore. Although highways run within sight of the lake shore for much of Tahoe's perimeter, many important parts of the shoreline lie within state parks or are protected by the United States Forest Service.
The lake was formed about 2 million years ago and is a part of the Lake Tahoe Basin with the modern lake being shaped during the ice ages. It is known for the clarity of its water and the panorama of surrounding mountains on all sides.  The area surrounding the lake is also referred to as Lake Tahoe, or simply Tahoe. More than 75% of the lake's watershed is national forest land, comprising the Lake Tahoe Basin Management Unit of the United States Forest Service.
Lake Tahoe is a major tourist attraction in both Nevada and California. It is home to a number of ski resorts, summer outdoor recreation, and tourist attractions. Snow and skiing are a significant part of the area's economy and reputation.  Mountain and lake scenery are attractions throughout the year. The Nevada side also includes large casinos. Highways provide year-round access to the area.
Share this: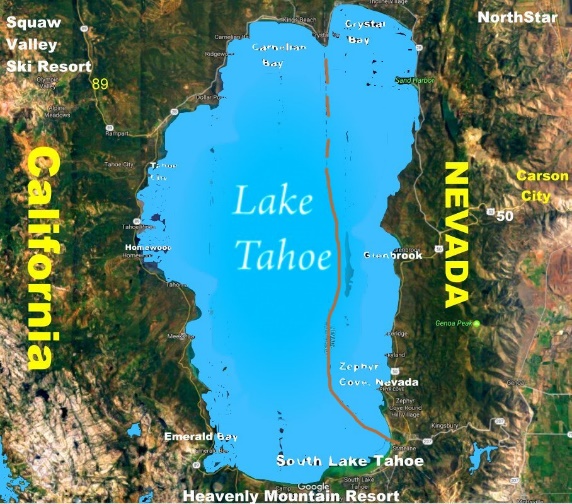 5 Star tour guides and excellent customer service

We are unconditionally committed to excellence

Quality private custom tours &exclusive outdoor adventures

We are a Reliable, Certified and Local Small Business

Luxury 4WD SUVs and top-of-the-line vehicles

Go where you want to go, travel your way and at your pace

Quality products, great values and no hidden fees

Luxuryvehciles and VIP travel services à la carte

Expert photographers and hikers tour leaders available

Family-friendly tour operator, always willing to go the extra mile

Secure websites and 100% satisfaction guarantee

Complimentary services and all-inclusive tour packages

All applicable taxes and entrance fees included


© Since 2004 – DBA LAke Tahoe Adventures LLC, 101 California Street. Suite 240, San Francisco, CA 941249